The Velvet Elvis Pizza Company, established in 1998 by owner and chef, Cecilia San Miguel, has become a destination of its own after former Governor Janet Napolitano designated it "An Arizona Treasure" in 2005.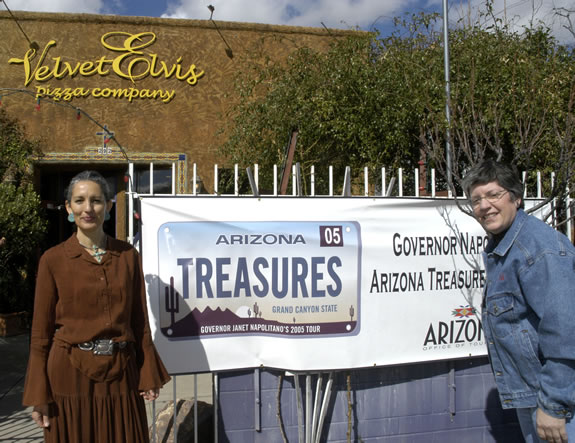 In 2008, Arizona Highways named the Velvet Elvis one of the top 25 restaurants in the state. In 2009, Tucson Lifestyle selected Velvet Elvis The Editor's Choice, Best of Town. In addition, the restaurant has been mentioned in national and international travel publications, National Geographic, and newspapers across the U.S. and Mexico.
A review from Chef Moz Dining Guide: "The restaurant is inviting to any culture and is a refreshing blend of organic, natural, modern, hippie, hiker, metaphysical, Western, Native American, Hispanic, upscale, artsy, vegetarian, and meat lovers, or a blend of all of these. Velvet Elvis compliments Patagonia very well. The kitchen is modern and beautifully designed, always impeccably clean. I have tried several dishes and have never been disappointed. Reservations are not required. I know of no other restaurant of this style, but more would be refreshing."
Open Wednesday-Sunday, 11:30 – 8:30.  (Closed Monday and Tuesday)
Phone:  520-394-0069
Address:
 292 Naugle Ave., Patagonia, AZ 85624
Email: cecisanmiguel@msn.com
FB: https://www.facebook.com/velvetelvispizza
Reservations for parties of six or more highly recommended.