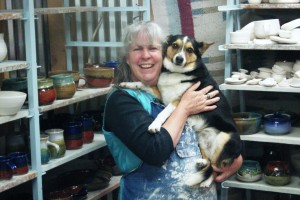 Shooting Star potter, Martha Kelly, has been in Patagonia working as a studio potter since 1981. "Throughout my life, clay has always been the source of my true joy. The magic of making something out of nothing is truly a gift to the potter as well as the world."
Martha Kelly was born and raised in Brooklyn, New York. It was a month-long clay work workshop in Greenwich Village when she was sixteen that began Martha Kelly's long journey into the world of clay. In the late seventies she studied and became an appentice potter to Barbara Clark at the Cascabell Clayworks outside of Benson, Arizona. Not long after, she moved to the small town of Patagonia, Arizona, where she opened her studio, Shooting Star Pottery. Since 1982 Martha has been a production potter as well as a ceramics teacher at the Patagonia Creative Arts Center. In Kelly's own words, "Patagonia is my place and being a potter is my llife. What a lucky and blessed life I live to have clay as my life work and to be able to share it with my family and the world."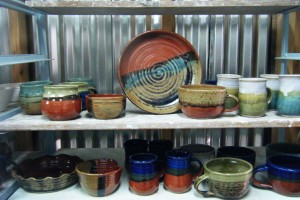 Shooting Star Pottery is one of the last remaining working studios in Patagonia. It is located directly behind 431 Duquesne Ave. on Santa Rita Alley. Go down Santa Rita Alley from 4th Ave. and look for a shooting star pottery sign.
Shooting Star Pottery features mostly functional pieces thrown on a potter's wheel, specializing in tableware and dinnerware sets, as well as one of a kind pieces. The glazes can be bright and eye catching, or a variety of more subltle earth tones. The use of white stoneware and a porcelain clay allow for the true colors of the glazes to show.
Martha Kelly's ceramic mosaics can be seen at the Art Center, Creative Spirit Gallery and Red Mountain Foods. A smaller mosaic panel is located further down Naugle Avenue next to Mercedes Mexican Restaurant.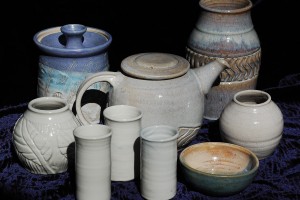 Martha teaches wheel thrown classes at her studio and hand built classes at the Patagonia Creative Arts Center.
If you don't find Martha at her studio, just give her a call and she will be happy to open her studio for you!
Address: 431 Duquesne Ave. with access on Santa Rita Alley
PO Box 122, Patagonia, AZ 85624
Cell:  520-604-0300
Email: marthakelly222@yahoo.com
Hours: By appointment
Method of Payment: cash and checks