Raven's Nest – our private, 42-acre Nature Sanctuary by Patagonia Lake – is nestled in a beautiful Mesquite Bosque or woodland, interspersed with native grasslands. The sanctuary is located near the edge Sonoita Creek State Natural Area's 8000 acres of wilderness – just a short walk or drive away. Here you can enjoy: Birding Tours (incl. many Mexican Specialties!), Naturalist Saunters, Nature Treks, Ethnobotany Workshops, Astronomy, Wilderness Survival Skills, Wildlife Tracking, Ecological Restoration, Natural History, Botanical Walks and more – all with an expert guide! Visit our amazing Sky Islands Discovery Center, nature trails, modern campground, unique Stone-Age village, organic gardens and organic orchard. Here you'll also discover our many working models of sustainable living practices.
Stay with us at Raven's Nest Nature Sanctuary for the ultimate wilderness experience, while lodging at our unique African-style Safari Tented Camp – luxury camping at its best! Listen to countless birds, search for exotic wildlife, and tap into the timeless rhythms of life during a memorable Nature Retreat at our secluded Eco-Lodge. Whether it is the haunting call of a Gray Hawk, the raucous cacophony of cavorting Ravens, the iconic songs of the Coyotes at dawn and dusk, or unforgettable star-gazing, you'll immerse in the environment as never before!
Our Safari Tented Camp provides opportunities to explore Nature, while contributing to the protection of the Environment and the health of Ecosystems in the Sky Islands region. At Raven's Nest Nature Sanctuary, every aspect of of Jaguar Camp and Ocelot Camp has been designed to minimize impacts on the land and the wildlife that inhabit and visit our beautiful and secluded preserve. Acting in harmony with Nature is one of our basic tenants at RWWJ and pervades our every action and decision.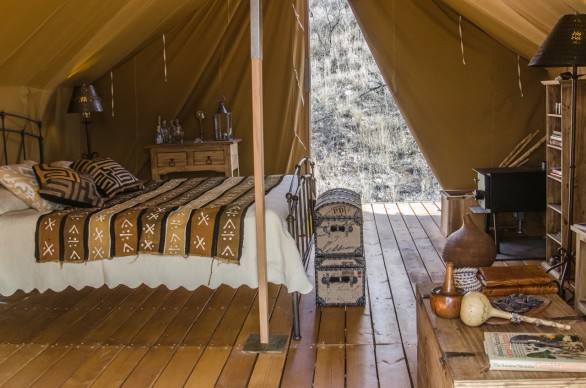 Jaguar Camp and Ocelot Camp have been designed with privacy, comfort, and views foremost in mind. At our unique Eco-lodges you'll enjoy amazing luxuries while in the embrace of the Earth. Each secluded Glamping site is well-endowed with a spacious canvas tent set atop an ample and attractive wooden Fir platform. Tent dimensions are generous: 20 feet long by 14 feet wide by 10 feet high at the center. Both ends of your tent open to the fresh air with two ample screen doors, allowing you to regulate the inside temperature. Retractable stairways at either end, permit you to access your private abode. Your numerous eco-lodge amenities include a supremely comfortable queen bed with adjustable Sleep Number air mattresses, 100% cotton linens, rustic wooden furniture, mood-appropriate lights, adjustable fans, Nature-based art, a Nature library, and a Mesquite-fired wood stove. An outdoor deck area with rustic chairs and a private patio with a comfortable hammock for lounging provide perfect places for you to relax with a good book and to watch the local wildlife.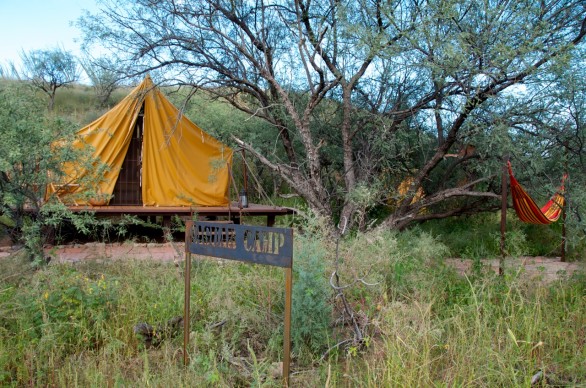 By the back end of each Safari Tented Camp lies your private en suite bathroom. Enjoy a hot shower under the glorious Arizona sun or beneath a dazzling array of stars. The hand-made bathroom vanity includes copper sinks and rubbed oil bronze fixtures. Incinerator toilets ensure a hygienic and efficient waste disposal system. Due to our fragile eco-system, we ask that you use our biodegradable products provided or bring only biodegradable toiletries for our eco-friendly gray-water systems.


At Raven's Nest Nature Sanctuary, we're passionate about offering a memorable Lodging experience. We follow strict green guidelines to ensure that our guests are staying in safe, non-toxic and resource-efficient accommodations as we strive for Ecological Sustainability. Please visit our website to learn about our Conservation initiatives and the environmentally friendly practices at our unique Eco-lodge.


Conveniently situated near Jaguar and Ocelot Camps are both open air and covered dining and lounging areas where we offer our gourmet food. Included amongst our diverse menu are seasonal wild delicacies and organic produce from our gardens and orchard. Catclaw Lounge is a beautiful flagstone patio set under the Arizona blue sky – ideal for soaking up the warm Winter sun, while savoring a delicious, home-cooked meal, and allowing for wildlife viewing as you eat. The Lion's Den provides a shady dining option amidst the tranquil sounds of small waterfalls at Pyrrhuloxia Pools. The lush native plants surrounding the Lion's Den and the water afford the perfect relaxing atmosphere for dining and watching colorful birds. In addition, Coati Cafe serves organic smoothies, organic teas, and other delightful beverages that will slake your thirst, as well as healthy snacks to assuage your appetite during the day.
Radiating out from the Safari Camp is a network of mystery-filled Nature Trails totaling several miles and encompassing both lowlands and highlands, arroyos and canyons. A relaxed saunter along the Woodlands and Grasslands of these trails is sure to net you a wide range of memorable wildlife sightings. Keep a keen eye open for Deer, Collared Peccary, countless birds, and fascinating lizards. Several strategically placed benches and shade ramadas plus a detailed map will facilitate your explorations. Be sure to stop by our Stone-age Village, Organic Orchard, and Lizard Labyrinth along the way!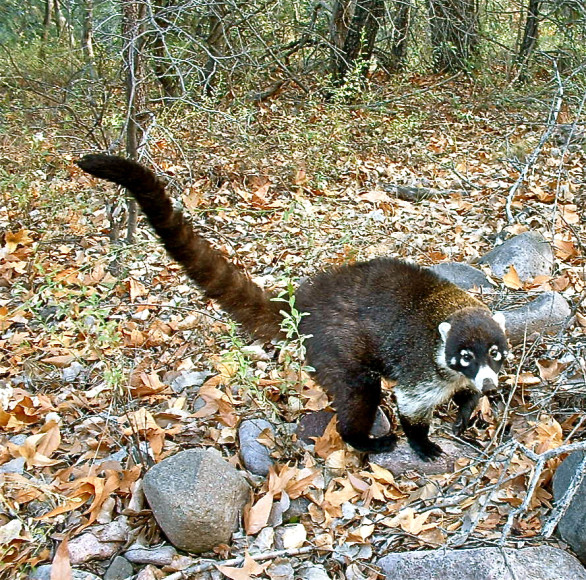 Closer to your eco-lodge is our Sky Islands Discovery Center – filled with a wealth of knowledge about the nature of southeast Arizona and beyond. There you can check out our fascinating Nature Library, peruse a multitude of informative and fun displays, explore our Organic Gardens, and learn from our live wildlife displays.
During your Safari Eco-lodge vacation take time to learn from Naturalist, Wildlife Biologist, Bird Guide, and expert Wilderness Survival Instructor Vincent Pinto in any number of exciting Eco-Adventures! Custom-make your own unique Nature Retreat, incorporating the 8,000+ acres of Sonoita Creek State Natural Area Wilderness and Patagonia Lake nearby. Numerous other wild areas provide an almost overwhelming palette of choices when considering where and how to explore the magical Sky Islands region. We'll work with you to craft the perfect getaway, incorporating these sublime natural areas as you desire. We'll also help you create the just the right blend of active Nature adventures and tranquil time spent alone. At Raven's Nest Nature Sanctuary we offer you a truly rare opportunity to unplug from the world and embrace a different pace while enjoying invigorating Nature adventures in the majestic Sky Islands!
Please visit our RAVENS-WAY WILD JOURNEYS website for a daily schedule of adventures and call or email us for more information, reservations and directions.
VISIT OUR WEBSITE AND EXPLORE OUR SAFARI TENTED CAMP!