Mar 14 –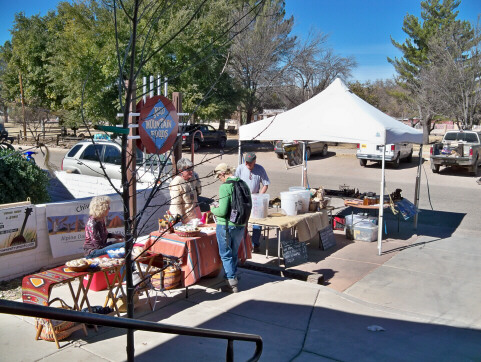 Weather Permitting-Winter Hours: 10-1 every Thursday in front of Red Mountain Foods:
Lesia-yummy goat cheeses. Lots of awesome flavors.
+The Tamale Ladies- They arrived by 10 last week. Come out and support them. Good eating!
+Paul-awesome whole wheat sourdough bread, rye, Asiago and veggie steccas. And a variety of new specials, like cherry walnut and other fabulous flavors.
+Kathy (or Harry)- free range chicken eggs, fresh garden vegetables and a selection of other delicious goodies. She also has soup, chorizo, vegetables from her garden and more. And Doug's tasty quail eggs and home baked dog biscuits.
+Barb-raw unfiltered honey, pasture raised duck and chicken eggs, her three (local settings) series contemporary westerns, historical westerns, western sci fi novels and gemstone creations.
+Sandi-Maybe. Excellent pies. Banana and other sweet breads.
+Mondo Farms-Maybe. Fresh tasty greens.
+The Rock Guy-Maybe. Beautiful petrified wood from Holbrook